LinkedIn Workshop for College Students and Professionals
What is LinkedIn?
LinkedIn Learning is a video-based learning platform focusing on professional development in business, technology, and creativity.
Discover, take, and keep tabs on courses in your field and ones that interest you with the help of over 5,000 options and individualized suggestions. After finishing a course and gaining the associated skills, you can add them to your LinkedIn profile.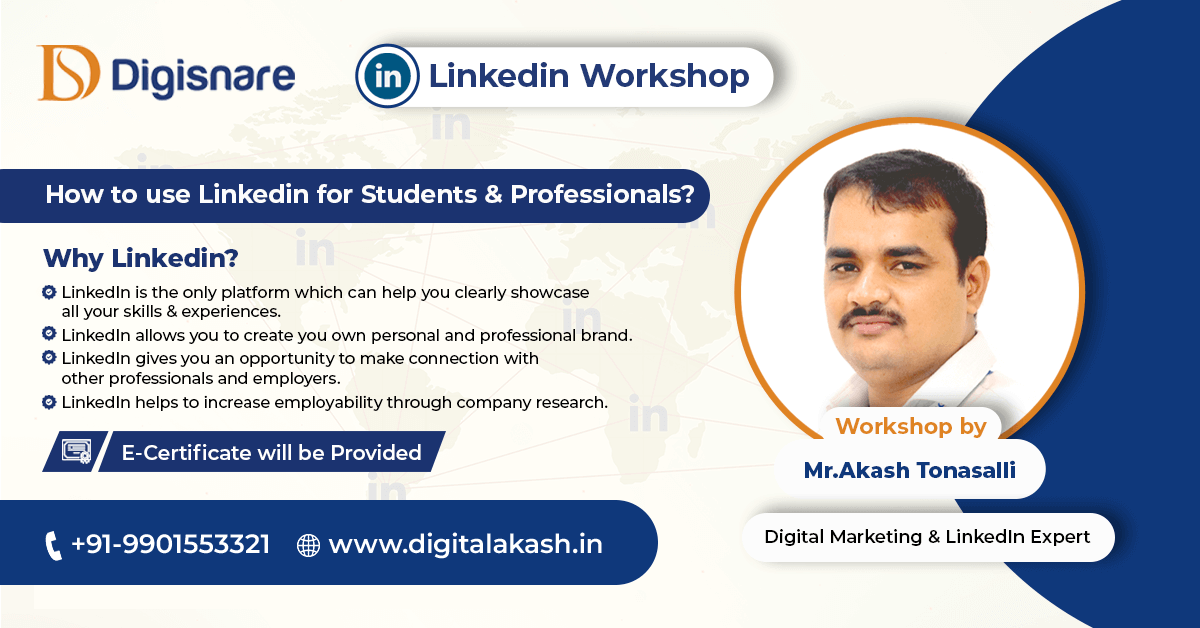 Why LinkedIn workshop?
We provide the service for Web Design, Web Development, Digital Marketing, SEO, Web Hosting and SMS Marketing for the business for our clients
Like-Minded People
All my workshop participants share a common goal: to increase their flow of inbound leads, visibility, and sales opportunities. They, like you, want to educate themselves and then use what they've learned.
The Ultimate Guide for Novices
Those who have set up a LinkedIn Profile in the past but haven't logged in to it in a long time or need help figuring out what to do with it will benefit most from the sessions designed for beginners.
A Personal Experience
Although you'll be in a group with people in a similar positions, the LinkedIn workshop will be tailored to your specific needs based on a review of your profile.
Facilitate, Not Dictate
Rather than just spewing out a laundry list of dos and don'ts, the first part of the workshop will explain why you should use LinkedIn and what you can do with it.
How to educate students about the power of LinkedIn
Make sure you're using a high-quality, professional image. Students are required to use a Professional Photo as their profile picture.
Make an attention-grabbing headline.
The summary should always come first.
Make sure to include any new and pertinent information.
Recognize the difference between suggestions and endorsements.
Making customized requests for network access.
Avoiding the common blunder of accepting connection requests from only those they already know.
DIGISNARE Technologies is the best training Institute cum Company in kalaburagi to create an awesome career!
How to use LinkedIn?
To begin, add your profile picture, banner, cover image, and professional headline to the top box area of your LinkedIn profile. It's crucial to nail this section, as most visitors will bounce in the first few seconds otherwise.


Second, make your Summary section enjoyable. Use as many of your available 2,000 characters to make this the most exciting part of your profile. Please avoid using lengthy paragraphs. Use bullet points to draw the reader in and explain who you are, what you do, and how you help others in no more than three lines. Include relevant industry keywords to improve your search engine optimization and online visibility.


Third, navigate your news feed by clicking the "Home" button.


Fourth, you should begin posting content about yourself, your company, or your brand. Start talking about things that are interesting and relevant to the business world as well. Extra Suggestion: Incorporate video into your posts to further increase interaction.


Commence creating blog posts that are similar to this one.


The search function on LinkedIn is the best feature, so you should start there. LinkedIn serves as both a massive database and a search engine. But if you use the search function, you'll find many options.


The seventh advice is to start talking to the people in your network. LinkedIn is a gold mine of untapped business potential, but only if you mine it.


Here are top 3 benefits to college
Find Your college alumni
Connect with students globally
Share placement & other info
HR Can find You college for placement
Student can share assignment by tagging College (Helps in branding)




Here are top 3 benefits if placement officer active in LinkedIn

Connect with companies' recruitment team
Gain Latest technologies details
Find the info of Campus hiring

If you provide opportunity to deliver LinkedIn workshop to you students. We will help in profile building. If you are interested, please reply to mail or contact at +91-9901553321.

Note: Workshop is Free and will issue e-certificate to students.
Here are top 8 benefits for having strong LinkedIn profile
Gain exposure to Hiring Managers and Recruiters
Demonstrate your knowledge, credibility and leadership expertise
Use LinkedIn as a research tool
LinkedIn has a great job board
You can gain social proof for your skills and talents
Follow Companies
Join LinkedIn Groups
Build Strong Portfolio
Recent Workshop